Author:
Journalists and fact-checkers face huge challenges in sorting accurate information from fast-spreading misinformation. But it's not just about the words we read. Viral images and memes flood our feeds and chats, and often they're out-of-context or fake. In Asia, where there are eight times more social media users than in North America, these issues are magnified.
There are existing tools that Asian journalists can use to discover the origins and trustworthiness of news images, but they're relatively old, inconsistent and for the most part only available on desktop. That's a barrier for fact-checkers and journalists in countries where most people connect to the internet on their mobile.
For the past two years, the Google News Initiative has worked with journalists to identify manipulated images using technology. At the 2018 Trusted Media Summit in Singapore, a group of experts from Google, Storyful and the broader news industry joined a design sprint to develop a new tool, taking advantage of artificial intelligence and optimized for mobile. With support from the Google News Initiative, the GNI Cloud Program and volunteer Google engineers, the resulting prototype has now been developed into an app called Source, powered by Storyful.
With the app now being used by journalists around the region, we asked Eamonn Kennedy, Storyful's Chief Product Officer, to tell us a bit more.
What does Storyful see as the challenges facing journalists and fact-checkers around the world and in Asia in particular?
[Eamonn Kennedy] Sharing on social often happens based on impulse rather than full analysis. Anybody can share a story with thousands of people before they even finish reading what is being said. Bad actors know this and bet on people's emotions. They're willing to exploit the free reach of social platforms and pollute conversations with false facts and narratives, including extremist content. For fact-checkers, that means any given conversation is vulnerable to lies and manipulation from anywhere in the world, at any time.
Can you tell us a bit about the process for developing Source, and how AI helped solve some of the problems?
[EK] At Storyful, we see old, inaccurate or modified images being reshared to push a misleading narrative in news cycles big and small.
The common way of tackling this for journalists is to use reverse image search to prove that the image is old and has been re-used—but that has a couple of challenges. First, these repurposed images are frequently tampered with and the journalist needs to have the ability to identify manipulation so they get the best chance of finding the original.Second, search results are ordered by the most recent, where journalists tend to be interested in older results, so that means a lot of scrolling to find the original.
Source uses Google's AI technology to give instant access to an image's public history, allowing you to sort, analyze and understand its provenance, including any manipulation. That's already useful but it goes a step further. Source helps detect and translate text in images too, which is especially useful for journalists cataloguing or analyzing memes online.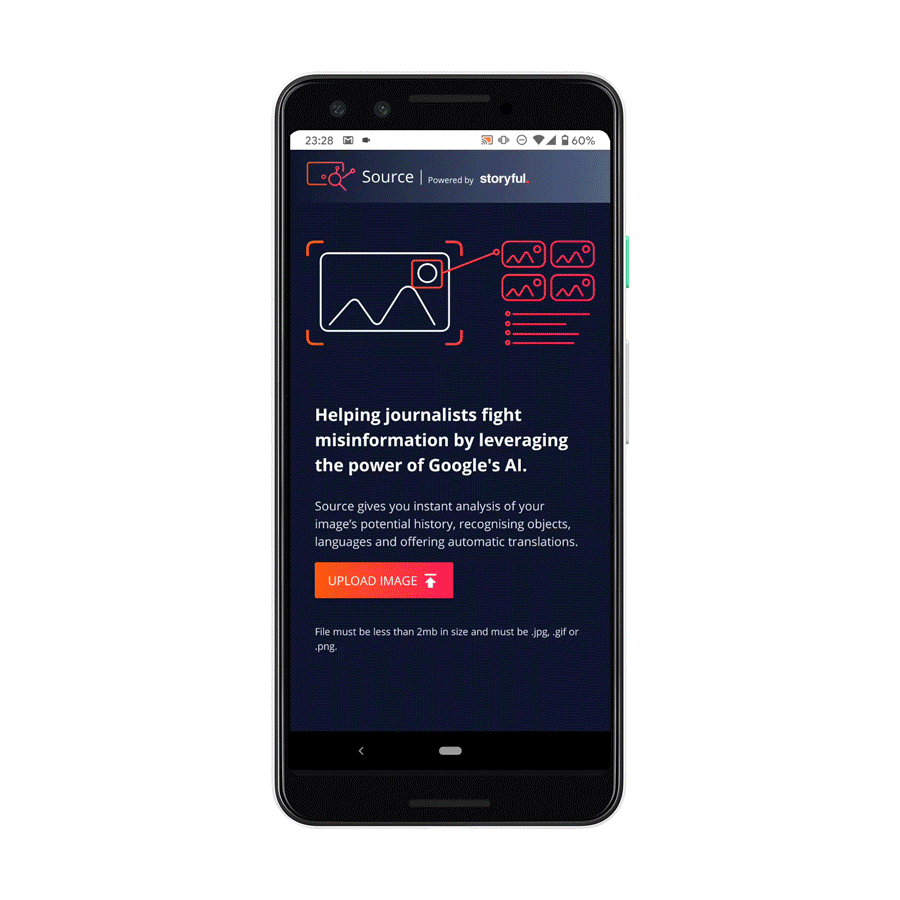 How are newsrooms using Source and what are the plans for it in 2020?
[EK] So far, 130 people from 17 different countries have used the app to check the provenance of images on social media, messaging apps and news sites. It's been especially good to see that 30 percent of Source users are accessing the site on their mobile, and that our largest base of users is in India, where members of the Digital News Publishers Association—a coalition of leading media companies dedicated to fighting misinformation—have provided important feedback.
Looking forward, we've been listening to fact-checkers as we think about how to build version two of the app. We know Source has been used to interrogate frames from a video, for example, which shows there's potential to take it beyond just text and images. The ultimate aim would be to build a "toolbox" of public fact-checking resources, with Source at the center, using Google's AI to support journalists around the world.