Author: datascience@berkeley Staff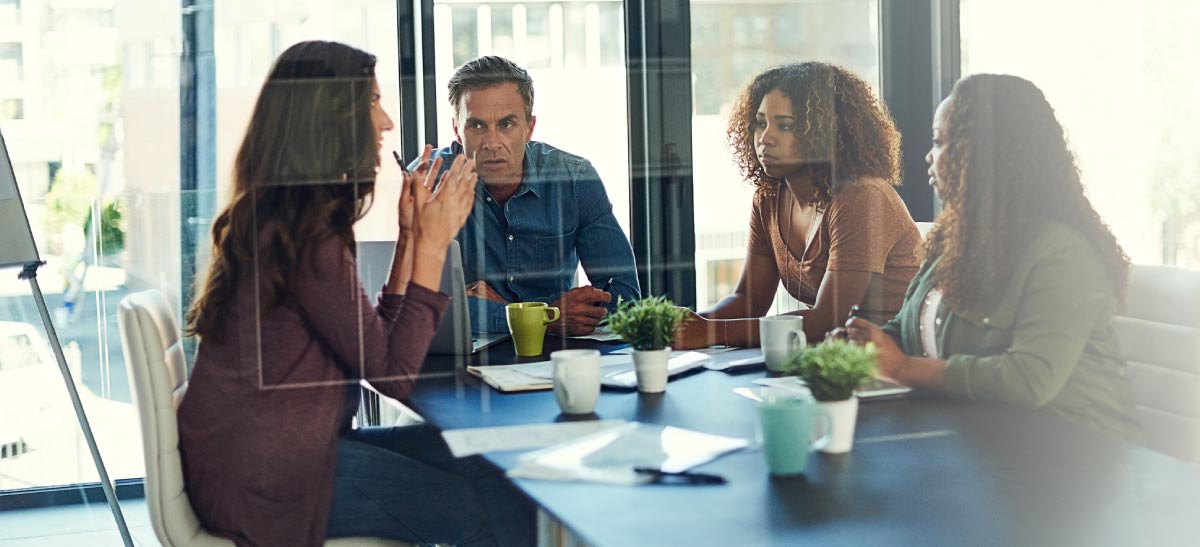 The median data scientist salary in the United States is $118,370, according to the Bureau of Labor Statistics, more than twice as high as the national median salary1and not far off from what doctors and attorneys make. It's important to note, however, that the BLS categorizes data scientist roles within a broader category: computer and information research scientists. This means salary data for data scientist roles also falls under the broader category of computer and information research scientists. 
Data scientist — a job that includes making sense of large amounts of unstructured data — was the No. 1 "best job" in America in 2018 because of its high salary, the number of job openings, and strong job satisfaction, according to CBS News and Business Insider stories. The role was also ranked as the best job three years in a row, since 2016, by Glassdoor. But most data scientist jobs require an advanced degree, such as an online data science master's degree. That doesn't mean you can only work at a tech company. The diversity of industries that hire data scientists continues to surge. As the power of data grows — increasing the need for predictive analytics and machine learning models — just about every industry is seeing the need to hire its own team of data scientists. 
The Emerging Field of Data Science
Data scientist is one of the fastest-growing job titles in the country. Companies are racing to hire people who can manage large databases and extract insights important for business, government, and academia. The ability to work with large, unstructured data sets and extract vital insights is a desired attribute for a worker. The need for data scientists is so strong that the Bureau of Labor Statistics predicts that future job growth in the field will be three times faster than for all jobs.
Most data scientists (40 percent) work on the West Coast, according to Burtch Works, an executive recruiting firm, followed by 26 percent working in the Northeast, 16 percent in the Midwest, 10 percent in the Mountain region, and 8 percent in the Southeast. 
The Bureau of Labor Statistics lists the five states with the most data scientists currently on the job:
Burtch Works also reported that the median data scientist salary was highest along the coasts. But the pay difference is narrowing — a sign of high demand for qualified data scientists.

Data Scientist Salaries by State
Pay for data scientists varies by state and region. Data scientists in California — home to Silicon Valley — are paid well. But so are data scientists in states such as Virginia, where the median for a data scientist salary is slightly higher than in California. Below is the median wage information for data scientists across the United States, according to the Bureau of Labor Statistics.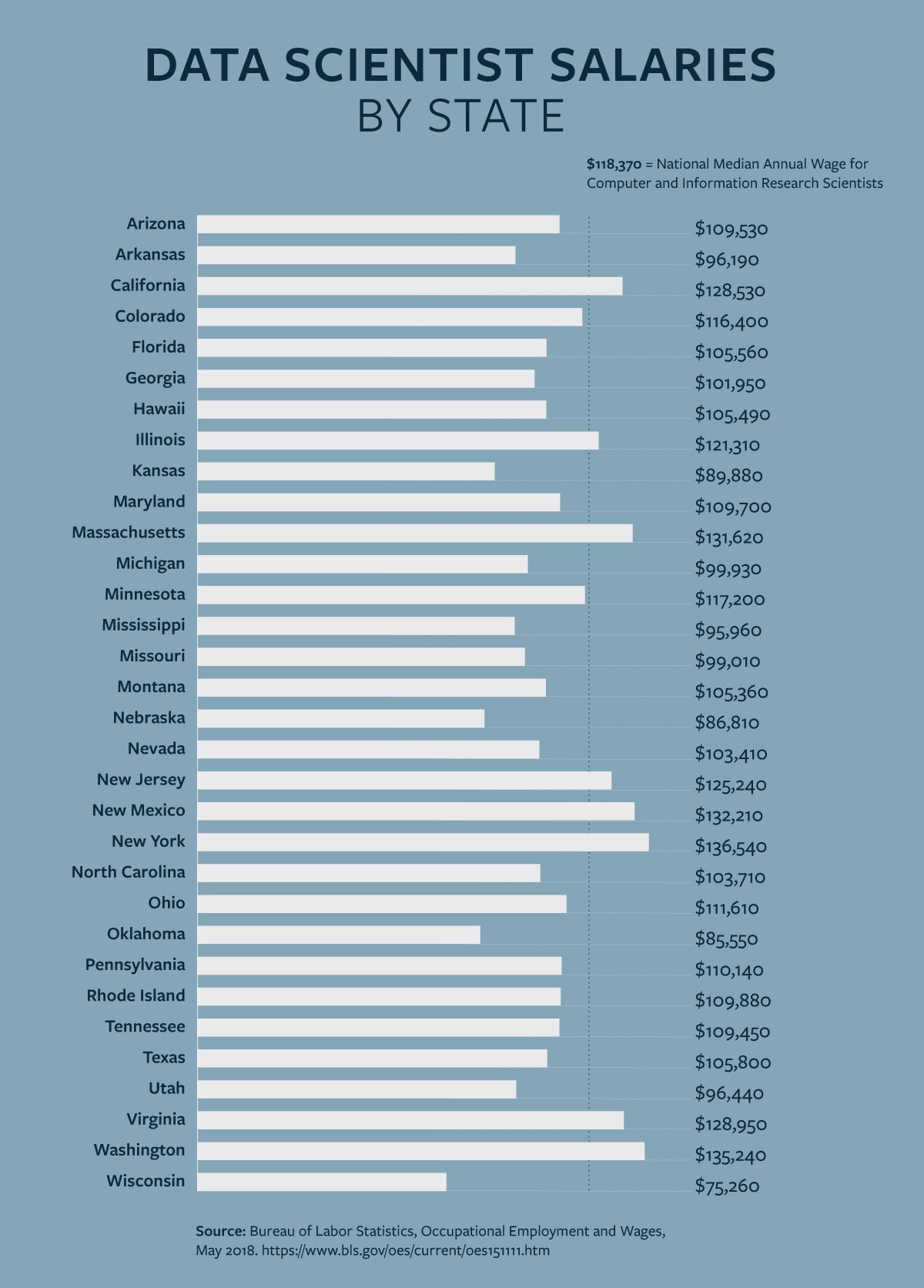 The median annual salary for data scientists is $118,370, according to the Bureau of Labor Statistics. This is nearly twice as high as the average median salary in the United States. Scroll to the bottom of the page to take a closer look at median salary of data scientists by state.
States that did not have median wage data were: Alabama, Alaska, Connecticut, Delaware, Idaho, Indiana, Iowa, Kentucky, Louisiana, Maine, New Hampshire, North Dakota, Oregon, South Carolina, South Dakota, Vermont, West Virginia, and Wyoming.
Top Companies with High Data Science Salaries
For data scientists interested in plenty of opportunities, tech companies offer many of them. 
But you don't need to move to Silicon Valley to find a data scientist job. Tech companies outside Silicon Valley like 23andMe and Lenovo hire data scientists too2. The data scientist salary for those jobs is mostly above $100,000 and in some cases close to $200,000 a year — or even higher for uniquely qualified individuals working in specialized roles. Not interested in tech? Fifty-nine percent of all data science and analytics job demand was found in finance, insurance, and professional services industries, according to an IBM study from 2017. 
State and federal governments are major employers of data scientists too. 
There are varied opportunities at Montana's Office of the Commissioner of Higher Education in Helena, Montana, or the New York City Department of Health, which has an environmental data scientist analyzing data for restaurant food safety inspections and mobile food permitting. Data scientists can also be found at the National Security Agency in Fort Meade, Maryland. The Central Intelligence Agency in Washington, D.C., also has data scientists on its staff. 
Companies that you might not think of as traditional "tech companies" are also looking for data scientists. 
It's difficult to find industries that don't employ data scientists.
Other Factors to Boost Your Data Science Salary
A college degree is often required to become a data scientist, and having an advanced education helps. An online master's in data science degree, for example, can help individuals strengthen technical skill sets and gain a competitive advantage in the job market. About three-quarters of data scientists have a master's degree or doctorate, according to the Bureau of Labor Statistics. Other studies put the number even higher: Ninety-one percent of data scientists have a master's degree or Ph.D., according to Burtch Works. 
Data scientists mostly come from math and science backgrounds. More than eight in 10 data scientists studied mathematics or statistics, computer science, natural science, or engineering, according to Burtch Works, which means having a background in any of these interdisciplinary fields can only help as you negotiate pay. And for those interested in moving into management, a data scientist manager can earn 5 to 15 percent more than a data scientist. 
Data scientists need to be able to toggle between the technical world of computer science and the industry they are working in — practically applying what they know within an organization. For example, a data scientist working at a hospital will pull different, unique insights than a data scientist working at an investment firm.  
In addition to understanding the mechanics of a specific industry, knowing how to use different computer programming languages is also important for a data scientist. The most popular computer programming languages are SQL, Python, R, Bash, and JavaScript and Java. But there are hundreds of languages that might be used by programmers at different times in their careers.
Data scientists are responsible for building and maintaining relational databases such as MySQL, Microsoft SQL Server, and Oracle, which are the top relational databases. Hadoop is software for storing, digesting, and distributing data. And of course, being able to pull, train, and model data to make predictions and potentially feed it to a machine to make faster predictions for the future is and should be part of every data scientist's core set of skills. 
So it's no surprise that according to the O'Reilly industry survey:
67%
of data scientists reported a major involvement with "basic exploratory data analysis."
61%
said they "conduct data analysis to answer research questions."
But the third most popular responsibility was "communicate findings to business decision makers," a task commonly found in any professional role but for data scientists, communicating findings to stakeholders requires a unique level of flexibility and technical skills. Data scientists clean complex data sets and ultimately interact with the data from inception to the point where they disseminate critical information in a language others will understand. Data scientists who can effectively combine their statistical, computer science, and business acumen will be a valuable asset in an organization.
Where Do Data Scientists Work?
Tech companies may employ many data scientists, but only 26 percent of respondents to the O'Reilly Data Science Salary Survey 2017 said they worked in traditional tech industries.
Here are the top responses for where data scientists work:
26%
traditional technology
Respondents also reported working in the following industries:
advertising/marketing/public relations
health care/medical
government
carriers/telecommunications
media/entertainment
insurance
manufacturing/heavy industry
computers/hardware
nonprofit/trade associations
search/social networking
Sources:
1https://www.ssa.gov/oact/cola/central.html
2https://www.glassdoor.com/Job/jobs.htm?suggestCount=0&suggestChosen=false&clickSource=searchBtn&typedKeyword=data+scientist&sc.keyword=data+scientist&locT=C&locId=1147436&jobType=
3https://www.indeed.com/q-Healthcare-Data-Scientist-jobs.html
4 https://www.indeed.com/jobs?q=drug+company+Data+Scientist&l
---
The following section contains tabular data from the graphics in this post.
Data Scientist Salaries by State
Data Scientist Salaries by State

| State | Median Salary of Data Scientists* |
| --- | --- |
| Arizona | $109,530 |
| Arkansas | $96,190 |
| California | $128,530 |
| Colorado | $116,400 |
| Florida | $105,560 |
| Georgia | $101,950 |
| Hawaii | $105,490 |
| Illinois | $121,310 |
| Kansas | $89,880 |
| Maryland | $109,700 |
| Massachusetts | $131,620 |
| Michigan | $99,930 |
| Minnesota | $117,200 |
| Mississippi | $95,960 |
| Missouri | $99,010 |
| Montana | $105,360 |
| Nebraska | $86,810 |
| Nevada | $103,410 |
| New Jersey | $125,240 |
| New Mexico | $132,210 |
| New York | $136,540 |
| North Carolina | $103,710 |
| Ohio | $111,610 |
| Oklahoma | $85,550 |
| Pennsylvania | $110,140 |
| Rhode Island | $109,880 |
| Tennessee | $109,450 |
| Texas | $105,800 |
| Utah | $96,440 |
| Virginia | $128,950 |
| Washington | $135,240 |
| Wisconsin | $75,260 |
Source: Bureau of Labor Statistics, Occupational Employment and Wages, May 2018. https://www.bls.gov/oes/current/oes151111.htm
Disclaimer: The BLS does not capture salary data specifically and only for data scientists. Instead, the BLS categorizes data scientist roles within a broader category: computer and information research scientists. Salary data for data scientist roles fall under the broader category of computer and information research scientists.
Citation for this content: datascience@berkeley, the online Master of Information and Data Science from UC Berkeley